TTM Energiprodukter is a Swedish manufacturer specialized in vacuum degassers and prefabricated shunt units. Since 1969 the company has developed and delivered products within HVAC to simplify the daily work for their clients and create solutions that generate effective flows in HVAC-systems. TTM has been active in Scandinavia for more than 50 years and is now searching for partners in the Be-Ne-Lux countries.
They seek a dedicated distributor to build a long-term business relationship with. This is the first active step for TTM to introduce vacuum degassers outside Scandinavia, so it is of great importance for the future growth of TTM. All products are made in Sweden and certified according to ISO 9001 and ISO 14001.
TTM´s ideal business partner is a small/medium-sized company, with a well-established salesforce and deep client relationships in the region and preferably within the HVAC-segment. These clients include installers, HVAC-consultancies, and facility owner/management companies.
The role of the distributor is to exclusively sell and market the vacuum degasser. It includes searching leads amongst HVAC-installers and convince specifiers and facility owner/management companies of the importance of a vacuum degasser. A technical knowledge of heating systems is important, however the product is quite easy to understand and TTM also offers genuine training if needed.
TTM's end clients are active in commercial buildings where you have a fluid-based heating or cooling system. All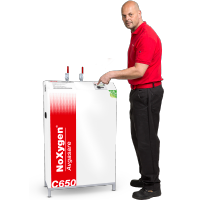 communication with TTM is in English.
For more information on their products, please visit: https://shop.ttmenergi.com/
If you are interested or need more additional information, please contact, preferably by email; bo.nilsson@deskago.se or send a sms to: +46 734 200 316.